Sweety Pitchy Grey
 is a grey-colored contact lens manufactured by Sweety Plus. This contact lens is 14.5 mm in diameter, with a water content of 38%. The base curve of this contact lens is 8.6 mm in size. This type of contact lens can be changed after 3 months of use. Thus, when within 3 months of use is not replaced, will cause side effects on the eyes. Like glasses, glasses should be replaced immediately if the time has come, because the condition of the eye after using the glasses will change and new glasses must adjust to the current condition of the eye. The favorite contact lenses consumers today are disposable contact lenses. Because, more secure use because consumers do not need to save back contact lenses that have been used.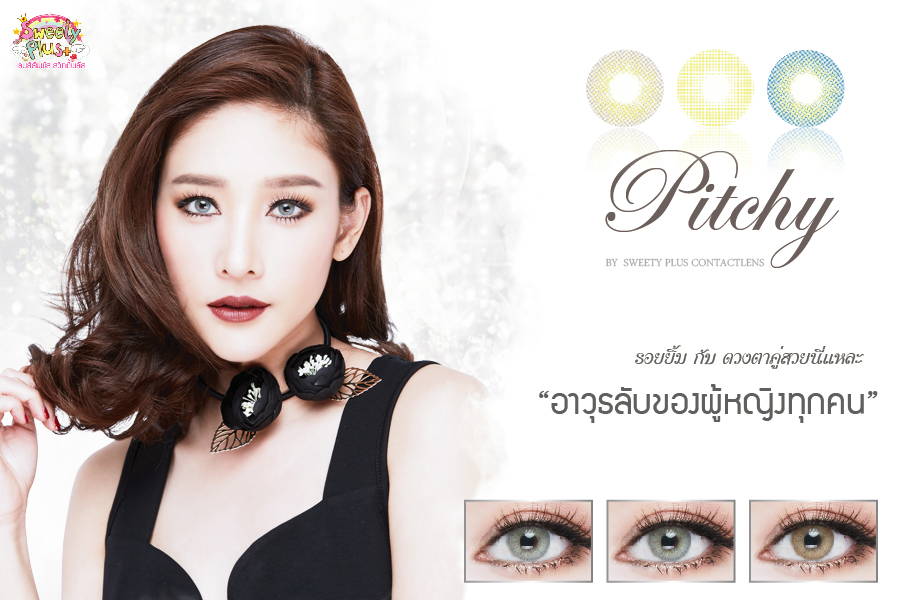 ---
Sweety Pitchy Grey Without Limbal Ring
Sweety Pitchy Grey
 contact lenses from Softlens Queen this is a form of contact lens without border. The entire color of this contact lens surface is grayed out. Usually contact lenses are made with black or other borders, but the contact lenses do not look natural. Therefore many people choose contact lenses without border to get a natural eye impression even though using contact lenses. Lots of consumers who choose to buy contact lenses without border with natural colors, such as black, brown or gray.
---
---
Contact lenses with Natural Color
Although the gray color is a striking color for the eyes, but the color of this type also includes a natural color for the eyes. Contact lenses with translucent three colors are high enthusiasts, because it can make the eyes look firmer, brighter and bigger, but still looks natural. Contact lenses of this type have three layers with different functions. First, the inner effect, this part is the color of the contact lenses and will blend with the original color of the eye. This layer makes the eyes become brighter. Second, the outer effect, this layer is the part that serves to make the eyes look more assertive. This layer usually consists of lighter colors such as gray or tanned. The third layer is called the limbal ring. This section has an older color, with the aim of enlarging the iris view. The third translucent effect is a breakthrough technology in the world of contact lenses.
Softlens Queen is a company that provides kinds of contact lenses. There are a variety of contact lenses provided by Softlens Queen, for example: Circle lenses, Natural Contact lenses, Cosplay lenses, Crazy lenses, and Halloween lenses. These lenses can be used at different events, according to the customer's needs. At Softlens Queen, customers can have contact lenses that they want quickly to change the look and complement the makeup.
Contact lenses provided by Softlens Queen are not contact lenses that are purchased with a doctor's prescription, but that are contact lenses that are purchased without a prescription. The difference between contact lenses purchased with prescription and without prescription, the contact lens with prescription have aimed to improving eyesight, whereas contact lenses purchased without a prescription aims to give beauty to the eyes.
Join Our Social :